When our dear friend and colleague, painter and educator, John Jerry-Anthony Parente learned of his diagnosis of cancer, he continued to paint. What emerged was a series of powerful and inspiring watercolor paintings, the last of which was completed shortly before he passed away. I had the humbling experience of collaborating with John to find a way to have these images available to the many people who are touched by his work.
The larger prints are still available for purchase from Fine Print, Fort Collins, CO. through their art for conservation website. In addition, I was able to obtain a small number of prints that can be purchased from Wabi-Ware either unmounted so that one could frame them – or mounted on a 5″ x 7″ greeting card. Please contact me through the contact tab on this website if you are interested in obtaining one of these small prints, just under 5 x 7 inches. Let me know the title of the painting, and if you want it mounted or as is. I will let you know the cost and shipping and would be delighted to share John's inspiring work with you.
John's life touched so many of us who are still inspired by his example and his creativity. Here is what he wanted me to share about his works:
Dr. John Jerry-Anthony Parente, 1948 – 2012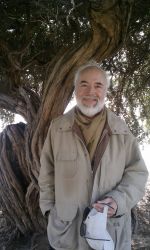 Parente's art works with themes of consciousness, radiance, the flow of grace, celebration of the indomitable human spirit and soul/Essence being revealed. His work is in various museums and private collections and has been showcased in special gallery and television exhibitions.
About the paintings, John says:
All of the paintings in this series were started and completed after I was diagnosed with inoperable pancreatic cancer and have been working with hospice while still teaching. I feel an abiding peace that comes from my sense that I have lived the Life I was meant to live!
The poet May Sarton said she writes poetry to know what she feels. I knew my feelings of peace were real, and I decided to paint and see what emerged, because that would be the purest flow of my Unconscious.
I did not set out to paint a series. I just cleared myself and started to play with paint, losing myself in the process, listening in the dialogue with the painting. In intensely painting, one piece "seeds" another and a series is formed. Each of these paintings stand apart on their own but share a relatedness in that they are all about Presence, flow, Vastness, that which is deep within being revealed. It is a pulsation of a deeper reality that cannot be expressed, except in the nuanced and elastic language of the arts, as for me, in painting.
Viewers would look at "Essence Illuminating" and say they could see a bird, child dancing, flower form, burial garment and/or wings. All of this is there and none of it is there. I paint to convey a deeper feeling and reality through the color (as I am a colorist, very sensitive to hues), spatial placement, transparent glazes and flow of the piece(s). Hopefully, the viewer gets caught up in the experience as I did in painting! And they see new emerging images come forth and recede as their eyes adjust to being with these paintings, creating a living, dynamic, and peaceful immersion into the experience.
The paintings of this series are very unique for me. But then, of course they would, as I had not been terminally ill and living with dying before. I had decided when I started playing with wet paint on wet paper, watching it spread ("bleed") that I would go wherever the paintings led. The centrality of the figures and the degree that they are autobiographical surprised me! The paintings in this series are poetic, deal with the portal between this and the spirit world.
My paintings are broadly spiritual, but not doctrinal. I draw from the various Wisdom Traditions and anything that helps us to become whole, fully human, compassionate beings.
John passed away on March 27, 2012.