What is Wabi?
Wabi-Ware takes its name from the Japanese concept of aesthetics, wabi-sabi. Hard to translate, wabi-sabi refers to earthy elegance – to the essence of rustic simplicity. It is seen in the stateliness of an old sun-washed barn poised in a meadow and in the pattern of free-fallen petals from a summer rose. With wabi-sabi, we behold the reverence of things that are real – yet imperfect; authentic – yet transient.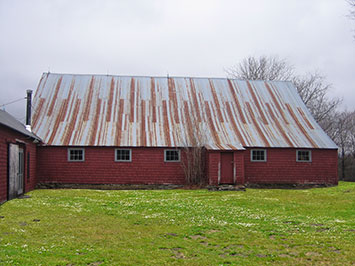 Making Wabi-Ware Cards
I have been making cards and books for my friends and family since I was a child. However, most of my professional life, I was a professor – teaching, doing research, writing and editing. Something about that process of looking at different ideas and bringing them together into a whole lecture or a whole book seems linked to making a collage – gathering bits and colors and embellishments and then finding how they fit together to tell a story.
I love having someone call or send an e-mail asking me to make a card for their friend or grandmother, sister, son, or spouse. I get ideas from them and then put together a card that I hope will touch not only their hearts but also touch the heart of the person who pulls the card out of the envelope. Recently a woman who received one of my cards called to tell me that, "the spirit is in the envelope!" She loved the Wabi-Ware card her sister sent her, and then she ordered a dozen different cards for her family. So, I made various cards with bikes, horses, special landscapes, flowers, tea and whimsy for her to send to her loved ones.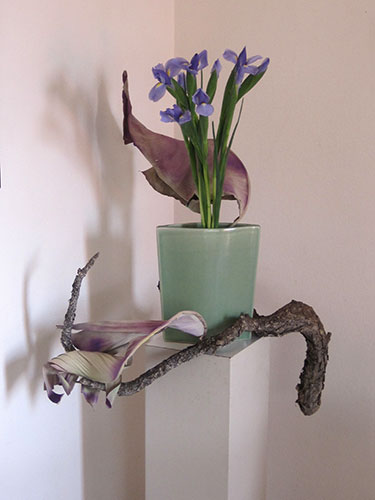 Having worked in the field of grief and bereavement, I am particularly touched to make a card to honor someone's loss of a beloved family member, friend or pet. I will make the card in colors special to that person and add a favored poem. I make special cards for infant loss and will include a small, sensitive booklet that reminds the reader about how grief affects us – and how to take care of ourselves in light of grief.
We Care about the Resources We Use.
Sometimes we use found items or re-purpose items, but we use lots and lots of paper. While some of our cardstock is from renewable sources, I am concerned about replanting trees to offset our paper use. For years I have been supporting a local non-profit, run by friends and people I care about. In addition to other sustainable programs, they replant trees (ReplantTrees.org). Please visit their website and see how a local program can have powerful, international roots that bring sustenance and support to various peoples and their homes/environment: Trees, Water & People (TreesWaterPeople.org).
In addition to greeting cards, I decorate books and tags, add miracle charms for healing talismans, make little shelf shrines to honor our Earth or trees, birds or animals. Each new request is a challenge to find the right combination to touch someone's heart with a collage made with care.
Peggy Short, Ph.D.
Fort Collins, Colorado
I invite you to also visit my companion website: TakeCareBooks.com